Hi there! I know that some of you have probably already had your prom because apparently in the States, prom season starts much earlier than here in Canada. So I'm sorry if I missed your prom, so next year, I'm going to try to start the prom posts a bit earlier.
The MET Gala happened last week and I figured, "What better way to get prom inspiration than to look at photos from what is essentially fashion's prom?" So that's what I did and I came up with three outfit recreations of my favourites from the night. If you have any requests for more outfits, please do let me know! But for now, let's get into it!
The whole outfit all together costs $159.69. Pretty good, eh?
Suki wore this beautiful asymmetrically ruffled nude gown for the event and let me just tell you how hard it is to find a ball gown under $250 that looks similar online (I'm sure hunting it down locally will be easier, honestly). That's why I ended up with a
simple short nude dress from ModCloth
($106.80) that has the same princess feel. For shoes, she was actually wearing black combat boots under her gown, but I opted for some
edgy platform heels from Wasteland
($78.35) instead. If you're willing to spend a bit of cash for a really pretty pair of shoes for the event, check out this pair from
H&M
. I was lucky enough to find a
clutch from a store called All Thing Trendy
($43.60) that's in a very similar colour to the shoes, but has the silver rose to brighten up the outfit. To finish off the outfit, Suki wore a simple pair of silver studs and since the dress I picked had a bit less drama, I picked a more
statement pair of earrings from Topshop
($13.78).
And this outfit comes to $242.53.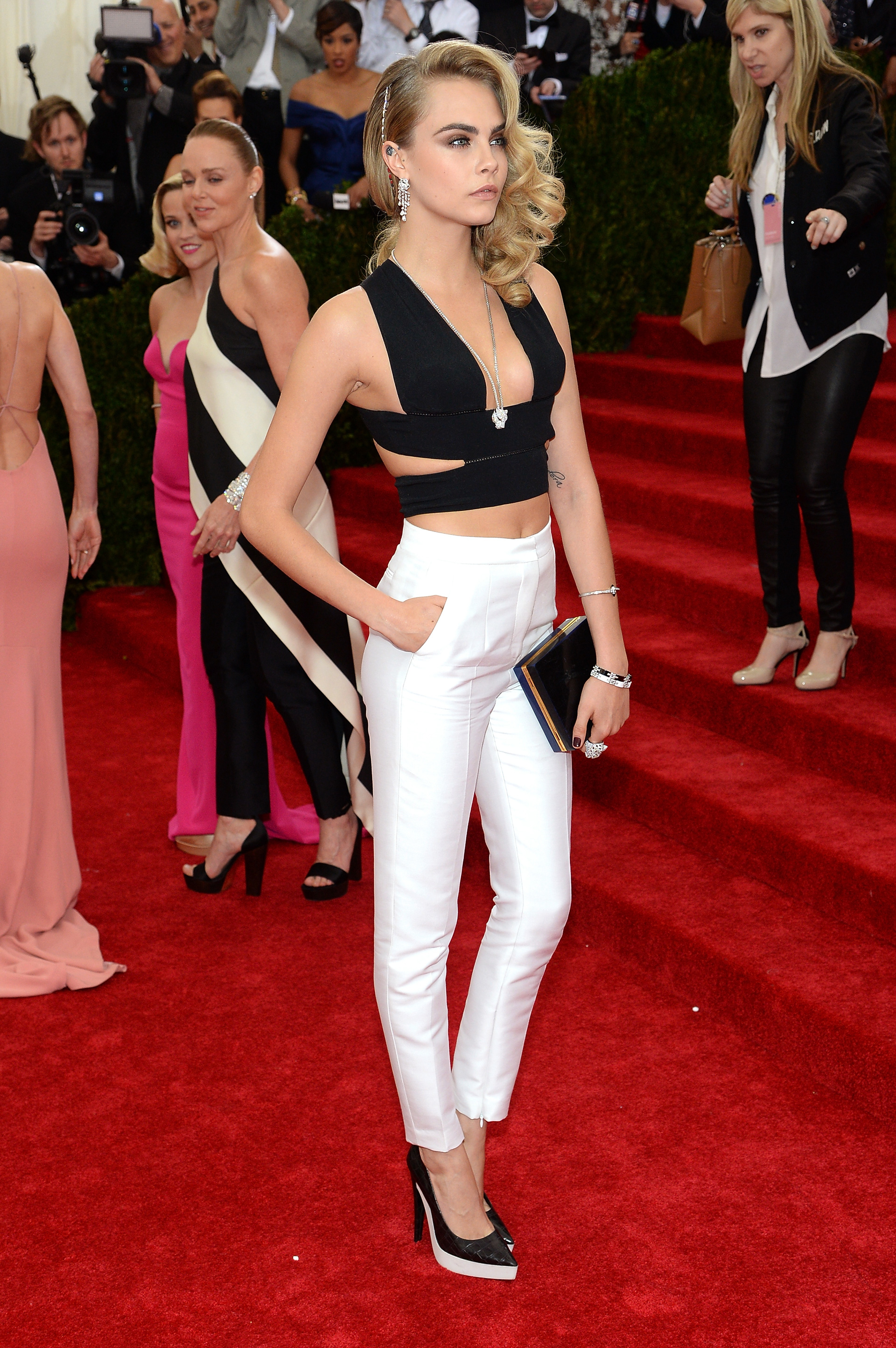 Finally, the lovely Miss Cara Delevigne who wore pants. Or should I say trousers to honour her nationality?
This outfit totals up to $188.76 if you pick the pants or $236.03 if you pick the skirt.
Which outfit was your favourite? Whose MET outfit would you like me to recreate? What is your dream prom ensemble? How do you like this new outfit collage layout, or do you prefer the old one? Leave your comments below!
Thank you so much for reading!
- J