Hi there! Before I start today's post, I thought it'd be important to mention something that will mark my country's history forever. If you didn't already know,
here's an article
to brief you, but in short, a shooter came to the country's capital and shot and murdered a soldier who was guarding the War Memorial, He then proceeded to Parliament (out government buildings), but was fortunately put to a stop there before he could do anyone else any serious harm.
Nothing like this ever really happens in Canada so it came as a surprise to us all and freaked us all out. But my emotions at the time are nowhere near as important as the actions that the police took to stop this man and for that I'm so grateful and proud. It's truly awful how Cpl. Nathan Cirillo was killed in his uniform that he wore proudly as he served our country and he died a hero, really.
I feel like my words here will never be able to express how I feel about all of this and the thanks that everyone involved in stopping this awful event from getting anyway worse, but I've done my best.
Anyway, for those of you who came to read about what pumpkin recipes you should try out, keep on reading!
Healthy Pumpkin Chocolate Chip Oatmeal Cookies
I actually tried this recipe out two weeks ago and they were absolutely delicious. However, I will say that it requires a bit less than double the amount of pumpkin suggested because mine, albeit being pretty darn good, were a bit dry. I also added chopped up pecans into the mix for a bit of added texture. If you're looking for a less healthy option, check
this one
out.
This blog is actually run by one of my mom's co-workers and I was drooling when I saw them. I'm a big fan of scones, so this is totally up my alley. The only thing is, I might add some ingredients to make the scone a bit more moist and omit the frosting for a healthy take on it. Not that you can make butter that healthy anyway, aha.
I also happened to try this recipe out the same weekend I made the cookies. I was rushing through the recipe so I didn't notice that the pumpkin wasn't supposed to go in the oatmeal part of the mix, but I put it in anyway. If you're not a huge fan of pumpkin, you might not like that alteration to the recipe, but if you are, go for it! Just remember throughout this recipe not to reduce the sugar/honey/whatever in the recipe because it won't taste nearly as great.
Pumpkin butter amongst various other types of butter that I have never even thought of (did you know that cookie butter was a thing??) is such an interesting concept to me. I don't know if I'll make it this year just because I don't really have that much time on my hands and I'm pretty sure that it would provoke many unhealthy binge eating sessions because pumpkin butter on whole grain toast sounds pretty darn fantastic.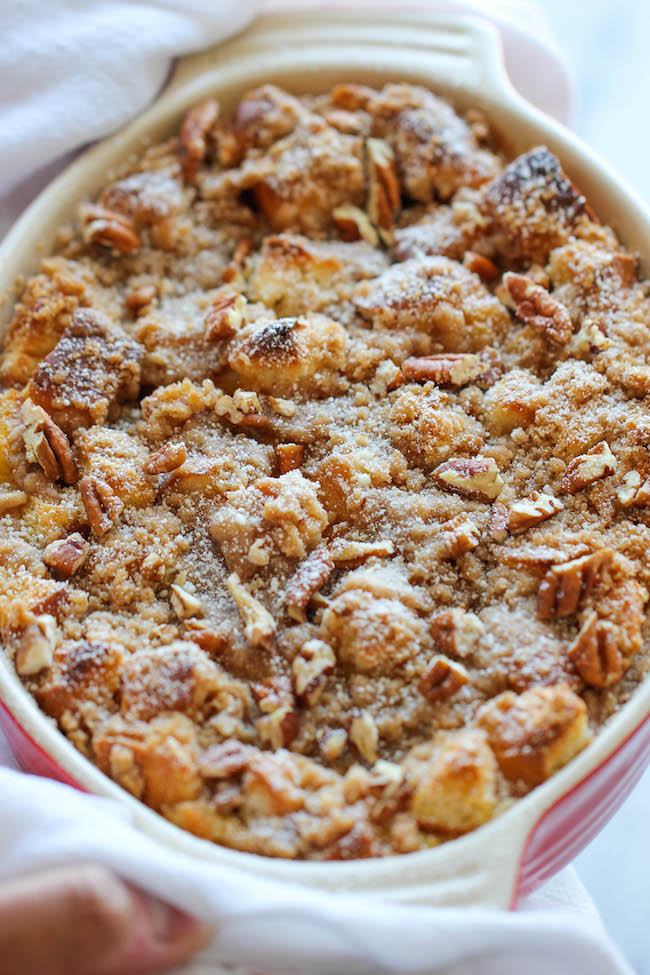 Image Credit: Damn Delicious
This basically looks like heaven and as I was reading through the recipe, it sounded more and more like it. I've never made french toast like this and my mind is going crazy and is packed with tons of ideas on how I could modify this for different seasons.
Let's just say I'm pretty excited.
Which recipe was your favourite? What pumpkin recipes do you like to try out this season? Are you a fan of pumpkin? Let me know in a comment below!
Thank you so much for reading!
- J