Hi there! It has come to my attention after posting How to: Be Unique In Your Everyday Wear that some of my readers go to schools where uniforms are mandatory. Because it is back to school season, I thought it'd be perfect to write something on how to make your uniform (for those of you who wear one) more unique and a little bit different.
Please keep in mind that this is based on the uniforms I've seen out and about, so the dress codes at your school might not allow some of the things I mentioned.
Also, be prepared to see a bunch of nostalgic Gossip Girl photos of Blair and Serena in their uniforms. Oh, the good old days...
Accessories are everything. When everyone is wearing pretty much the same thing, the most obvious way to make what you're wearing unique is by accessorising.
With that in mind, don't go overboard with accessorising either.
Shoes, shoes, shoes... Unless your shoes are a mandatory part of your uniform, maybe try out some oxfords or brogue shoes instead?
Oversized! If your school is really strict about how you wear your uniform, this wouldn't work for you. I'm not going to repeat this over and over again because I think that you would find that quite annoying, but the same thing applies to a few of the other tips below. This information might be a bit inaccurate, but I've heard that you can buy more than one uniform. If this is the case, why not go for an oversized blazer instead of a form-fitting one? It would definitely be a cool take on the whole menswear trend.
Change up your socks! This might seem completely random, but instead of wearing them pulled taunt, maybe try pushing your socks down and scrunching them a bit to make your uniform seem a bit more quirky and comfortable. You could also wear cool tights instead!
Throw on a sweater! Wearing a cute and comfy sweater that matches your skirt overtop your blouse would make sure that your uniform doesn't look too preppy.
Layer to add interest! Instead of wearing a blazer, opt for a cardigan or something like that instead? Maybe even a leather jacket or something along those lines if it gets colder where you live. Cropped jackets, vests, whatever you can find and is allowed would really add to your uniform.
Loosen up! If you thought that you couldn't look laidback and relaxed with your uniform, think again! While it certainly wouldn't be as relaxed as a t-shirt and jeans, it's the next best thing. Instead of buttoning your blouse up to your neck, pop a button or two, but remember not to go overboard and look indecent. Maybe even push your blazer's sleeves up a bit or loosen your tie if you have to wear one.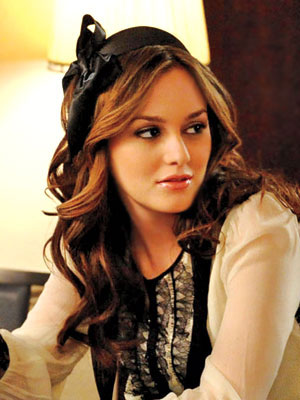 (Yes, I realise that she is not wearing her uniform in this photo. Just look at her hair, people.)
Maybe do your hair? Changing up your hair can really change the whole vibe of your uniform. Add a hairband à la Blair Waldorf and go for perfect curls to achieve that preppy look. Or tie you hair in a loose fishtail braid for a more relaxed look. The possibilities are endless!
And makeup, too! Or course this wouldn't work if your school doesn't allow you to wear makeup, but if your school does, maybe you could rock a bold look that no one else would dare to try. But don't go overboard, there's a thin line (but a difference) between being bold, unique, and daring, and being inappropriate.
Do you need to wear a uniform to school? What do you think of them? Do you have any other tips and tricks to make a uniform look more unique? Please leave me a comment below sharing your thoughts!
I hope this helped all of you struggling to find unique ways to wear your uniform. Thank you for reading!