Hi there! You may or may not know this about me, but I'm such a huge, die-hard Swiftie (Taylor Swift fan). Though she does play it quite safe sometimes on the red carpet and whatnot, but I love her feminine and classic, vintage-inspired style. Like my previous "I Want Her Closet" posts, I'm going to be sharing with you a few of my favourite red carpet looks that Taylor has worn and in a follow-up post, I will be recreating three of her street style looks for a lower price. Enjoy!


This was from a while back, but it remains one of my favourite red carpet looks that Taylor has worn. She wore this to the Billboard Music Awards in 2011 and I love how classic and glamorous this dress is. And her hair! It's so beautiful and paired with the red lipstick, it's like Old Hollywood glamour all over again. Enough said.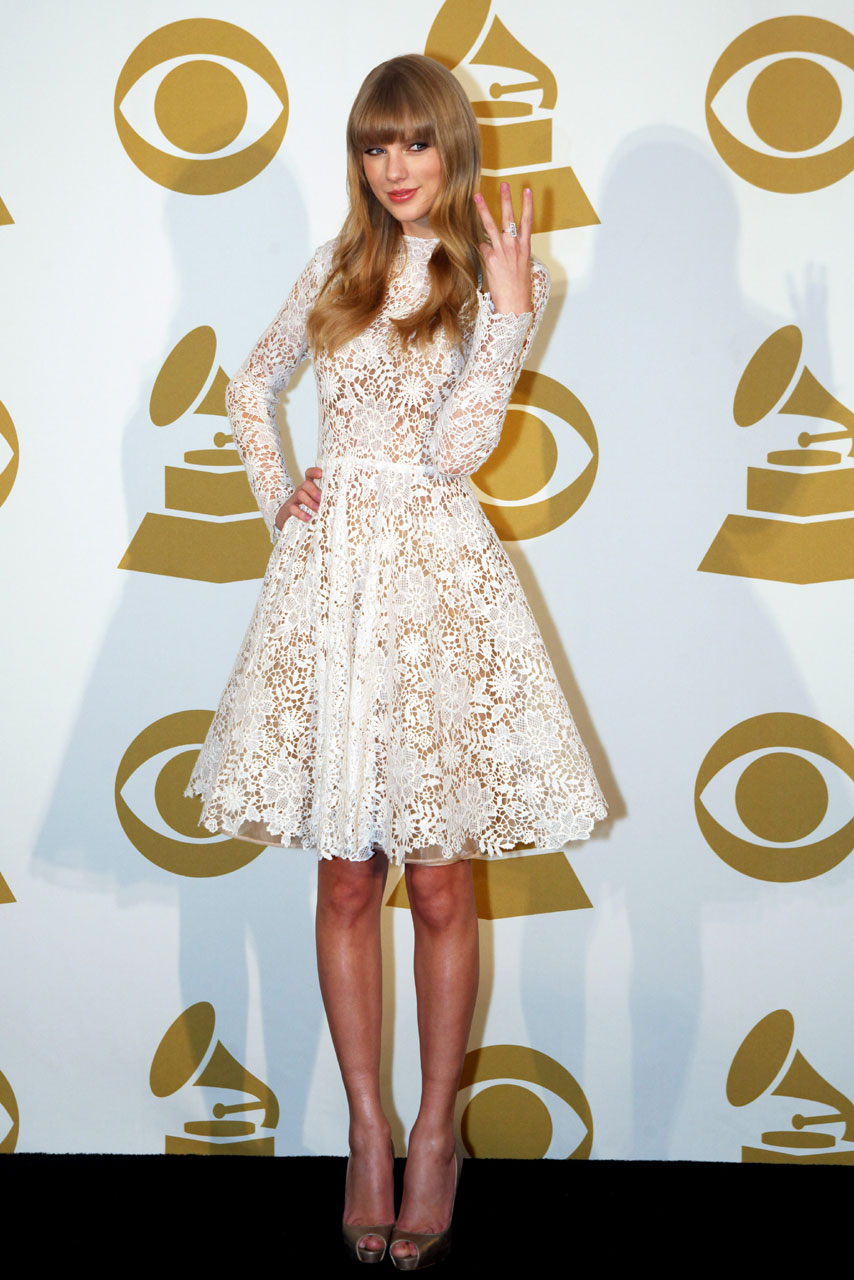 This outfit is a lot more recent - it's what she wore to the 2013 Grammy Nominations in Tennessee and I absolutely adore this dress. It's one of my favourite short dresses that she has ever worn, particularly because it's quite different from what she usually picks out, which is always a nice change. I'm a huge fan of fit-and-flare dresses, so it was pretty obvious, at least to me, that I would immediately fall in love with this ensemble. I also really like how she let the detailed dress shine on its own, and left out any crazy accessories that would've taken your attention away from the gorgeous dress.
Image Credit
Taylor wore this a Roberto Cavalli show a long time ago. I remember seeing the photos of this outfit when I was younger and just immediately falling in love with it. I just love the different textures and how it's a twist on her usual innocent looks. I just want to own every piece in this outfit, like, seriously.
This last outfit is again, another Throwback Taylor-like thing because it was what she wore to the ACM's a few years back. To this day, it remains one of my favourite red carpet looks from her. The pale yellow Elie Saab gown is simply breathtaking and gorgeous and it makes her look like a princess, which is a look that I really like on her. Plus, her makeup's beautiful and it ties everything together perfectly.
Tips to Recreate Her Style:
Go for classic pieces. Oxford shirts, striped shirts, oxfords, and brown leather satchels will probably become staples in your closet.
Vintage-inspired dresses are your best friends. Taylor's street style consists of a lot of classic dresses and they're just so easy to slip on and get out the door in the morning, so that's always a plus.
Be comfortable. Taylor's style always looks very effortlessly put-together, but she always looks super comfortable. This is just a general fashion rule, in my opinion, but don't wear something that you don't feel comfortable be.
Bring out the red lipstick! This is kind of an unspoken and pretty obvious thing when it comes to recreating a Taylor Swift look, but if it wasn't already obvious, wear a classic red lip if you want to go all out. Be sure to pick a colour that works well for your skin tone.
That concludes this little Taylor Swift gush piece. I hope that you guys enjoyed this and leave me a comment down below telling me which one of these get-ups was your favourite? Are you a fan of Taylor Swift? I want to know!
Thanks for reading!
- J