Hi there! It officially feels like fall where I live and if you didn't already know, fall is definitely my favourite season EVER. Sure, summer's great because there isn't school and there's my birthday, but it's just hot, man, and it's really hard sometimes to find the energy within you to not just throw on a tank top, denim shorts, and head out the door. Or not even get dressed at all, because what's the point in dressing up when no one's going to see you?
When I think of fall, I think of leaves changing, the resurrection of boots, mittens, everything pumpkin, and most importantly for us fashion lovers - layering. I just love layering, like it's not even funny. But after one or two weeks, I kind of get burnt out. Why? Because sometimes, I'm just not creative with my layering.
So with today's post, I wanted to share some really cool ways to layer to get your creative juices flowing for when you're putting together your outfits in the morning. If you think these ideas are totally not out-there and different, just think of it as any other outfit inspiration post. You'll thank me later. ;)
We often think of layering chambray shirt over top of other things such as tank tops and graphic tees, but what about layering something over top of the chambray? This cozy combination is perfect for transition your summer wardrobe into fall outfits. So effortless, too.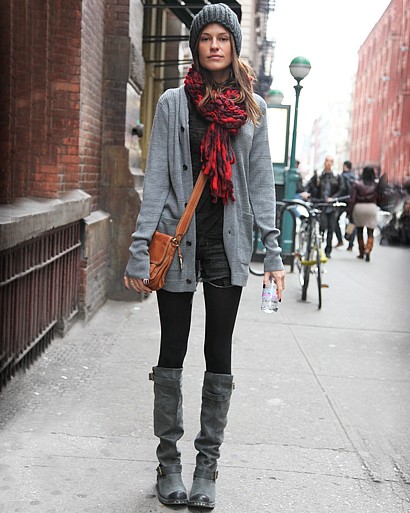 Just because summer's over doesn't mean that you have to put away those shorts! Layer them up with tights/pantyhose, an oversized cardigan, tall boots, and knit accessories to keep you warm.
That huge scarf looks like a dream to just wrap yourself in. You could easily make a statement by throwing on a huge one instead of your favourite cardigan.
Isn't this just so cute? It's such an adorable way to show off a quirky collar AND stay warm while making a statement. Who doesn't love sweaters with words on them, am I right? No? Okay.
I saved the best for last. How many layers are there in this outfit anyway? There's the ribbed sweater, then a hoodie, and a leather jacket. This is such an amazing combination, I'm in love.
Which outfit was your favourite? Will you be recreating any of these outfits? Did you find this inspirational? *wink wink* Let me know in a comment down below!
Thanks for reading!
- J